Viewpointec See-Through LED Screen
As a trusted Transparent LED display manufacturer, we design and supply high-quality transparent LED screens, customization services are also available. Transparent LED display(see-through LED) is usually applied in retail stores or buildings for glass display, impressing customers and also branding in an eye-catching way. At the same time, the see-through LED display also creates a new way of combining space and product. It has become a new and fashionable way of displaying, decorating, and advertising.
What is a Transparent LED Screen?
A transparent LED screen comprises programmed LEDs mounted on a clear glass panel. Ordinarily, you can see through the glass. However, when the LEDs are turned on, they light up in sequence to display images or videos as desired.
The images on a transparent LED display are just as sharp as you would have on opaque displays. The only difference is that transparent glass offers the best of both worlds. When you want to, you can leave the glass as is in its transparent state such that customers see inside your shop. Alternatively, you could use the LED display for brand advertising or informative announcements like a sale or a special offer. 
An LED transparent screen further helps to maintain architectural integrity. Instead of having to replace glass storefronts with bulky LED screens, this type of display allows you to maintain the glass design. It also blends right in and only stands out when you need it to.
Transparent LED Display Solutions
Glass LED displays are a dynamic way to market your brand to the public. It is an effective way to draw customers' attention to your shop, hotel, restaurant, jewelry store, or any other business. Moreover, it gives you creative freedom and costs much less than other forms of advertising. You can change your display every other day without having to incur expensive costs. 
Additionally, LED displays are more interactive than run-of-the-mill advertising. Having animated image transitions on the display, for instance, is more refreshing than just a still image. More so given the crisp colorful images transmitted by Viewpointec transparent LED displays.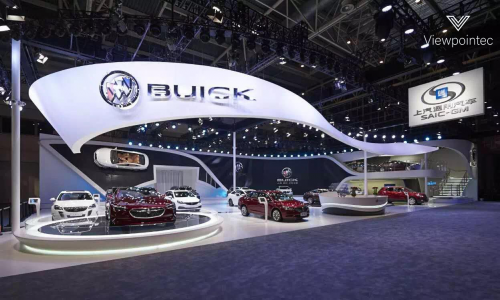 Building Decorations and Messaging
Brand awareness today requires that companies keep up with current matters including festivities and world events. On these occasions, you can rely on LED transparent screens to deliver your seasons' greetings or messages of solidarity with the public. It requires no extra costs and or special arrangements. More importantly, you retain control of the decorations, images or messages to be displayed. Some prominent landmarks associated with this kind of technique include the Eiffel Tower and the Empire State Building.
Professional Customization Services
We manufacture all our glass LED displays in-house. Our team of staff is thus well-versed in every component and step of the production process. As such, there is no part or design feature that we can not customize to meet the requirements of your project. It is also this vast experience that guides us in creating the right custom LED display for your needs. Simply reach out to us with your brief and we develop a solution for you.
Fast Shipping and Excellent After-sale Services
At Viewpointec, we understand that time is a valuable resource in business. Therefore, we fulfill orders within short turnaround times and dispatch them for shipping as soon as they are ready. We keep track of your shipment and remain in contact with you until you receive your shipment. 
After sale, we are available to assist you with any troubleshooting queries you may have. We also warranty on all our products and repair services when the warranty period lapses.